Samsung Monitor Rentals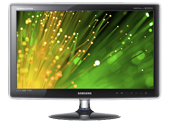 Why Get a Samsung Monitor Rental?
Samsung is a well known leader in electronics from cameras to laptops, so it's no surprise that they also make very impressive computer monitors. Samsung makes both LED and LCD monitors, and their patent Central Station, which is an HD monitor with a wireless docking station.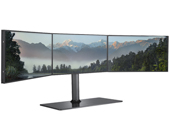 LED Vs. LCD
If you are choosing between an LED and LCD Samsung monitor to rent, there are some things to consider. The most important thing that weigh in on the decision is the setting in which you will be using your monitor rental. Since LEDs use back lighting, they are more ideal for indoor use, since having direct light on the screen would render an LED practically unusable. Samsung's LCDs offer more power and adaptability, and are more suited for higher end computing tasks.
Samsung's Central Station
The Central Station is an HD monitor that has a wireless docking bay attached to its base, allowing a laptop computer to connect when it is in range and have access to whatever devices are connected to its USB hub, and to link monitors.