Sound System Rentals
Client Comments:
"Many thanks for your help with our presentation rentals. The laptop and projector were a great combination! We do a lot of renting around this time of year, so we will be in touch" - Isaac V. from Chicago
"Our sincere thanks for the great job you did in coordinating the A/V at all the various malls! All of our managers reported how professional and nice the tech delivery people were. We look forward to working with you on future events and promotions!" - Cindy H from San Diego, CA
"On behalf of my team I just want to say we truly appreciate your patience, your understanding but more importantly all the help you've given us. We look forward to a continued working relationship." - Barbara S. from Fairfield, NJ
Microphones
If your event is growing, consider even larger audio visual solutions. A wireless microphone is the best solution. The presenter wears a small microphone on the lapel area (just clips on) that is connected to a transmitter. Handheld Microphones are also available.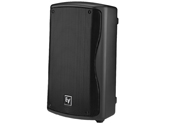 Speakers & Amplifiers
We offer a wide variety of speaker and amplifier rentals for any event. Whether you need a single speaker setup, or a fully stocked array, a Tech travel Agent can help you get your sound needs met.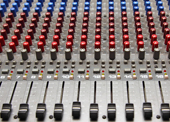 Soundboards & Staging
Our technicians see your sound equipment rental needs through to the end, including complete setup and staging of the sound system, Soundboards with 4 to 12 input mixing abilities are available for rent.
Sound System Packages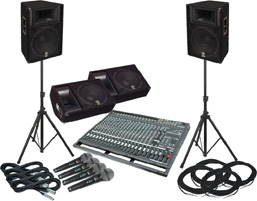 Each sound system rental package includes two speakers with varying wattages, depending on your needs. Small venue systems (Basic) have an average of 30-75 watt speakers. Standard venue systems range from about 75-250 watts. Large venue system packages (Advanced) have 300+ watt speakers. Single stand-alone speakers can also be rented (please specify in quote form).

Need sound equipment long-term?
If you need sound equipment for more than one year, consider our leasing options. We can lease anything from speakers & amplifiers, to soundboards for flexible one to five year terms. Contact a Tech Travel Agent to get started on a leasing contract today.