Projector Screen Rentals
Client Comments:
"I wanted to thank you very much for everything. Your AV specialist just left. He hooked up our LCD Projector and our presentation went great! Excellent service!"" - Maria from New Jersey
"I sent the 6500 lumen projector and short lens back yesterday. They worked very well! Thank you sooooo much!" - Joan from Nebraska
"Thanks Randy! We'll definitely be in touch the next time we need to rent any equipment! We had a wonderful experience working with you. The projector rentals were great for the art showing!" - Projects NYC from New York City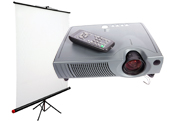 Why get A Projector Screen Rental?
If you have a projector, but need something to project your next important presentation onto, then our agents can procure a Projector Screen Rental. Whatever screen size you need, you will be able to work with our experienced Tech Travel Agents by describing to us the details of your presentation environment.



Popular Screen Brands:
Elite | Da-Lite | Draper | InFocus | Optoma | BenQ | Canon | Dukane | Eiki | NEC | Sharp | Sony | Vivitek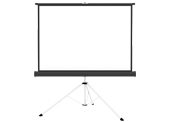 Choosing The Right Screen Size
There are a number of things to consider when trying to decide what size screen you should rent:
Projector Native Resolution lets you know which aspect ratio to select for your screen . Having this info on hand when you speak with your Tech Travel Agent will be a big help.
Ceiling Height allows you to determine the appropriate screen height for your presentation venue.
Distance from Screen to Audience: The viewers that are furthest away from the screen will determine the minimum screen width. A screen should be at least as wide as 1/6 of the distance between the screen and the farthest viewer.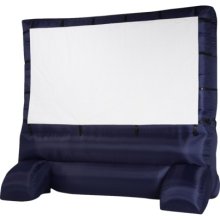 Screen Types
Portable Tripod Screens
ranging from 6' to 8'
Folding Screens
ranging from 6' x 8' to 9' x 12'
Large Venue Screens
ranging up to 22.5' x 40'
Inflatable Outdoor Movie Screens
ranging from 9' to 12'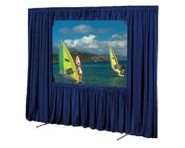 Screen and Projector Accessories
Rentacomputer offers Screen Dress Kits to enhance the aesthetic appeal of your presentation or movie. They cover the supporting frame and look much more professional.
In addition to screens and projector rentals, Rentacomputer can supply Wireless presenters with laser pointers and portable projector stand rentals.

Need a projector screen long-term?
If you need any number of projector screens for more than one year, consider our leasing options. We can lease anything from projectors & plasma displays, to lighting & sounds systems for flexible one to five year terms. Contact a Tech Travel Agent to get started on a leasing contract today.