Pepwave Hotspot Rentals
Perfect for business conferences, training classes, office parties, trade shows, or other business get togethers, the Pepwave Max HD2 is a perfect WiFi Hotspot rental for large groups! Connect up to 150 devices without the need to worry about lost connections, due to the bonded connection between cellular carriers! Available for daily, weekly, and monthly rentals!
Request A Pepwave Hotspot Quote
Pepwave Hotspot Rentals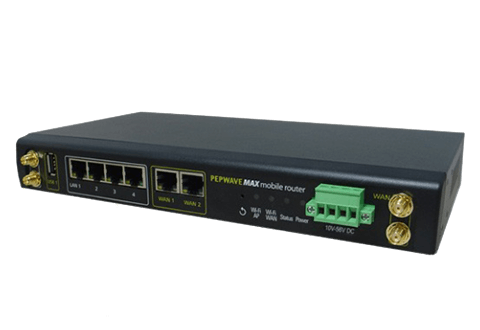 Why get a Pepwave Hotspot Rental?
Featuring an unlimited domestic US data plan, the Pepwave Max HD2 WiFi Hotspot is perfect for larger events where multiple connections are required. Recommended for up to 150 device connections, the Pepwave Max HD2 bonds multiple LTE-Advanced connections from the top US carriers. These bonded speeds are typically twice as fast as a single connection. Features dual-band WiFi (802.11 a/b/g/n/ac) and 4 Gigabit LAN ports Ethernet 10/100/1000.

The Pepwave Max HD2 is a great solution for projects and events that require connectivity for its users at all times. Due to the automatic failover, if a disruption to a wired connection occurs, it will automatically switch to a wireless connection for your connected devices. When the wired connection is restored, the connection will automatically failback to the wired connection.
Request A Quote