Pepwave Hotspot Rentals
Perfect for business conferences, training classes, office parties, trade shows, or other business get togethers, the Pepwave Max HD2 is a perfect WiFi Hotspot rental for large groups! Connect up to 150 devices without the need to worry about lost connections, due to the bonded connection between cellular carriers! Available for daily, weekly, and monthly rentals!
Request A Hotspot Rental
Pepwave Hotspot Rentals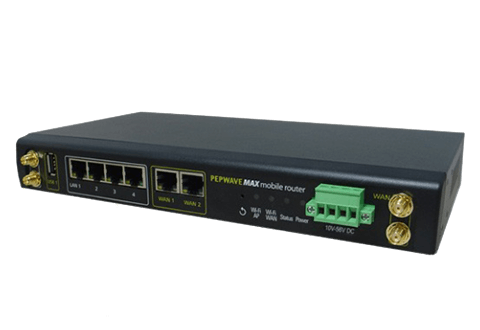 Why get a Pepwave Hotspot Rental?
Featuring an unlimited domestic US data plan, the Pepwave Max HD2 WiFi Hotspot is perfect for larger events where multiple connections are required. Recommended for up to 150 device connections, the Pepwave Max HD2 bonds multiple LTE-Advanced connections from the top US carriers. These bonded speeds are typically twice as fast as a single connection. Features dual-band WiFi (802.11 a/b/g/n/ac) and 4 Gigabit LAN ports Ethernet 10/100/1000.

The Pepwave Max HD2 is a great solution for projects and events that require connectivity for its users at all times. Due to the automatic failover, if a disruption to a wired connection occurs, it will automatically switch to a wireless connection for your connected devices. When the wired connection is restored, the connection will automatically failback to the wired connection.
Request a Pepwave Max HD2 Hotspot Quote
Overview
The MAX HD2 gives you blazing fast connectivity on the road with dual embedded cellular modems and SpeedFusion, plus a built-in 4-port GE switch to reduce clutter in your mobile deployments.
MAX HD2 has two embedded cellular modems and dual SIM slots that allows you to use the same or different cellular providers for bandwidth bonding or for eliminating blind spots.
Hot Failover maintains secure tunnels over all available WAN links to keep the network up and running when a connection drops out. If a WAN link fails, SpeedFusion instantly routes traffic to a working tunnel for uninterrupted VoIP sessions.
Our Latest Internet Hotspot Rental Product
Verizon Mi-Fi Rentals
Perfect for smaller events, the Jetpack MiFi Hotspot from Verizon is the perfect choice! Suitable for up to 7 connections at once, you'll enjoy 4G LTE speeds with the reliability and coverage of the Verizon network.
Why Freedomwifi Rentals Are Great for Events
Key Features
Connect up to 10 devices
Universal charging to charge other devices
Up to 20 hours of continuous use
Network reporting and analytics available
Touch navigation keys
Dual band 2.4 GHz/5.0GHz (802.11 a//b/g/n/ac)
Reliable Verizon 4G LTE Network
Unlimited Data Included
Helpful Resources For Finding The Right WiFi Hotspot
Selecting The Right Mobile Hotspot
Whether you're hosting an event, live streaming video, processing payments, or even video conferencing Zoom Meetings, it's important to know how many devices and Mbps your wireless internet router or hotspot supports. While some people choose to sign up for yearly contracts with their mobile carrier like Verizon, the smart money goes to WiFi rentals since you don't get roped into a lengthy contract.
The Most Popular WiFi Hotspots In The US
The overall goal of hosting a WiFi hotspot at your location is being able to offer high-speed wireless Internet to your visitors, customers, and staff. These devices are popular for businesses and events for both adding additional private networks and improving current internet speeds. Today we discuss two of our most popular Verizon hotspot rentals: the Jetpack MiFi 6620L (4G) and the MiFi M2100 (5G UW).
How WiFi Can Make Or Break Your Event
Are you prepared for all of your event guests to connect to your event venue's network at the same time? Without proper planning, large congregations of people can result in spotty reception. The things that drive your event's popularity would all be impossible. No status updates, selfies, or video streams and no "free" social promotion of your event from your attendees is something that can happen if your network is unprepared. Not to mention you'd have dozens or hundreds of upset event-goers, depending on exactly how unprepared you may have been.
All Wi-fi Hotspot Rentals
Nationwide Pepwave MAX HD2 Hotspot Rentals Available
Rentacomputer.com has specialized, for over 30 years, in acquiring technology for events and temporary business needs around the world. Whether our client needs a computer, audio visual, event, or office equipment, our top agents can obtain the equipment and coordinate all the finer details of on-site installation.Our agents at Rentacomputer.com also specialize in providing event production, staging, and support services for businesses and institutions worldwide. Rentacomputer.com has experience with a wide variety of clients from many industries and excels at delivering, setting up, and troubleshooting an array of technology.