VERIZON MIFI HOTSPOT RENTALS
Needing a hotspot for a small conference or event? The Verizon Mifi Hotspot stays powered for up to 24 hours of continuous use and can double as a charger for a smartphone. Hotspot are available for daily, weekly, and monthly rentals!
Request A Hotspot Rental
Rent a Verizon MiFi Hotspot for Internet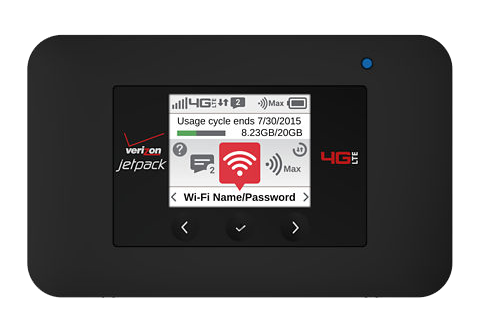 Verizon Jetpack Mifi Hotspots
Perfect for smaller events, the Jetpack MiFi Hotspot from Verizon is the perfect choice! Suitable for up to 7 connections at once, you'll enjoy 4G LTE speeds with the reliability and coverage of the Verizon network.

As opposed to using your own mobile device as a hotspot, the Jetpack has its own battery so you won't need to worry about draining the battery on your own smartphone or tablet. You'll also have the flexibility of leaving the Jetpack behind so other devices can continue using the hotspot while you take care of other business. With all of the latest WEP/WPA/WPA-2 security and NAT firewall protocols, you can configure your temporary wireless network to have all of the security features that you're used to.

Whether you need WiFi while working at home, need internet access for a Point of Sale system at an event, need to check your work email while traveling on vacation, or any other need for wireless internet, our MiFi devices will keep you connected on the go. Featuring an unlimited data plan, rental rates start at $74 per week. AT&T service is also available. Don't forget to ask us about our 5G hotspots!
Request a Verizon MiFi Hotspot Quote
Our Latest Internet Hotspot Rental Product
Freedomwifi Rentals
A FreedomWifi rental provides a standalone internet option completely free from the in-house wifi or the 'Free WiFi' you get from event venues. The rates some venues charge for basic internet connectivity can be outrageous or they use their 'Free Wifi' tactics to secure and overcharge you for your other event needs.
Why Freedomwifi Rentals Are Great for Events
Key Features
Bonds multiple LTE connections from the top U.S. carriers.
Bonded speeds up to 150 MBps
Freedom from the in-house - NO venue permission required (FCC Part 15 Compliant)
Network reporting and analytics available
No last minute order penalties!
Deployment options available for multiple areas
Plug & play deployment - quick and easy setup
Unlimited Data Included
All Wi-fi Hotspot Rentals
Nationwide Laptop Rentals Available
For 30 plus years, Rentacomputer.com has been the specialist in obtaining technology for events and temporary business needs. Whether you need a high-powered gaming laptop, a Macbook for designing or creative projects, a Microsoft notebook for business, or a mobile workstation for power and portability -- Rentacomputer.com has the latest, affordable, laptop technology for every event. No matter the reason your short-term business needs to rent laptops, whether it be conventions, trade shows, training classes, corporate events, classroom training, product demonstrations, or having your employees work from home, you can count on Rentacomputer.com to provide you with the knowledge and guidance to help you make an informed decision. We've worked with clients in a multitude of industries, and we excel at providing quality laptops at affordable prices. Don't forget, if you need wireless internet, ask about our WiFi Hotspot rentals!