HP Desktop Computer Rentals
Client Comments:
"You guys are the greatest vendor I've worked with in a long time! I've already told some of my other vendors about you and they want your info!" - Raymond from Dallas
"Thanks Randy! We'll definitely be in touch the next time we need to rent any equipment! We had a wonderful experience working with you. The projector rentals were great for the art showing!" - Projects NYC from New York City
"Great service. Rentacomputer.com delivered my plasma tv directly to my booth. Also they had a cool stand to make my plasma head level. Made for a much better presentation than using tables like did at the last show." - Zack D. from Dallas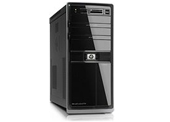 Why Rent an HP Desktop?
HP offers desktops that are capable of dealing with any computing need, from simply web surfing and email checking, to intense gaming or high end business computing and production. Call a Tech Travel Agent to get a quote on the right HP desktop for your needs.
All-in-one PCs
The good thing about HP All-in-One desktops is that they eliminate excess clutter on your desk, where the entire PC is built into an LCD panel.So with no tower to take up space, an HP All-in-One rental is very ideal for temporary desktop needs.
TouchSmart PCs
If you need the power of a desktop but enjoy the experience of touch operated devices, then an HP TouchSmart Desktop rental would be an ideal choice. HP Touchsmart PCs offer an intuitive approach to multi-touch navigation, on a very traditional desktop platform.

Need an HP desktop long-term?
If you need any number of HP desktops for more than one year, and want to avoid purchasing, consider our leasing options. We can lease any HP products for flexible one to five year terms. Contact a Tech Travel Agent to get started on a leasing contract today.