Hollywood Computer Rentals
Rentacomputer.com proudly provides computer and audio visual rental services with delivery and setup direct to your film set, studio, production room, sound stage, back lot, or any other location in Hollywood, California. We also provide laptop and desktop rentals to employers needing technology for work from home rentals and telecommuting rentals.
Request A Hollywood Computer Rental Quote
Hollywood Technology Rentals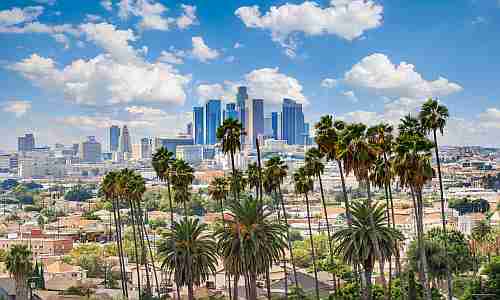 Hollywood, California PC/AV & Office Equipment Rentals
One of the most recognized cities in the world, Hollywood is notable as the home of the U.S. film industry. Home to several historic film studios, its name has come to be a reference for the film industry and the people associated with it. Rentacomputer.com is here to help with getting you the technology you need! We proudly offer laptops and desktop computers, powerful enough to edit even the most demanding project. Ask us about our
preloaded photo or video editing software
, such as Adobe Photoshop and Premiere Pro. If your business or studio finds itself with a short term need for a computer, iPad, laptop, HD display, or any other computer, audio/visual, or office equipment, give us a call today at 415-230-2003!
We also provide event services for all types and sizes of events in California. Speak with a technology rental agent to learn more, and get a technology rental quote today.
Request a Quote
Our Featured PC Rental in the city of Hollywood
Hollywood MacBook Pro Rentals
Hollywood MacBook Pros are available for rent with either 13-inch or 15-inch monitors. Both options come with a 2560-by-1600 native resolution Retina Display. The 13-inch display is available with a Touch Bar that has an integrated Touch ID Sensor. The 13-inch MacBook Pro is equipped with 2 Thunderbolt Ports, while the 15-inch model boasts 4 ports. Both models support the vivid P3 wide color format, an ideal format for displaying 4K video, video editing, and other film production tasks. Additonally, the 15-inch model comes standard with True Tone monitor technology the Radeon Pro 560X, and Intel UHD Graphics 630 GPU.


Whether you rent a 13-inch or 15-inch MacBook Pro model from Rentacomputer.com, you will have access to the power you need to complete your projects in Hollywood, with the lightness and portability you have come to expect from Mac laptops!

Get an Hollywood MacBook Pro Rental Quote
MacBook Rentals
MacBooks are the most commonly rented and sought after laptops made by Apple.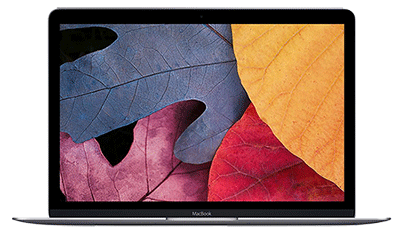 MacBook Rentals
20% faster than the previous model, our Macbook Pro Rentals were designed to be portable without sacrificing power. Great for photo editing, and not to mention, the latest model has 35% more battery capacity.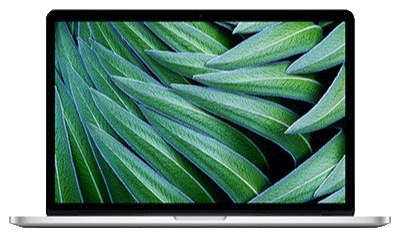 MacBook Pro Rentals
MacBook Pro rentals are by far our most popular Apple computer rental. Available in 13" or 15", the Macbook Pro has 8-core Intel Processor and is capable of up to 5.0GHz Turbo Boost, 32GB of memory, and 3.2GB/s SSD read speeds. Features 2 external GPUs (eGPUs) so you can have desktop-class graphics performance with notebook portability.
Get a Hollywood MacBook Rental Quote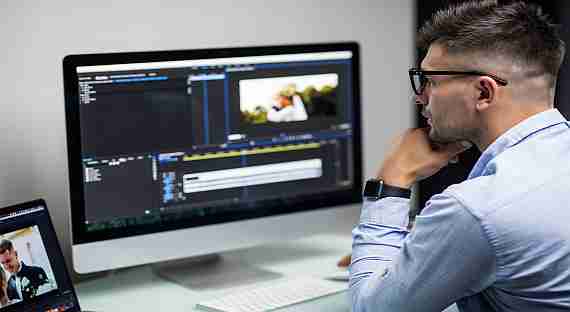 Hollywood Film Editing Technology Rentals
With over 30 years in the business, we know a thing or two about technology rentals. Our account managers will work with you to learn more about your editing project, and will confidently recommend a product that will work for your project. Whether you will be video editing, rendering, or live streaming, we have a product that will exceed your needs, at affordable rates. From Windows based laptops and desktops with powerful processors and graphics cards, to the latest iMac Pro with its beautiful 5K Retina display and 128GB of RAM, we have it all.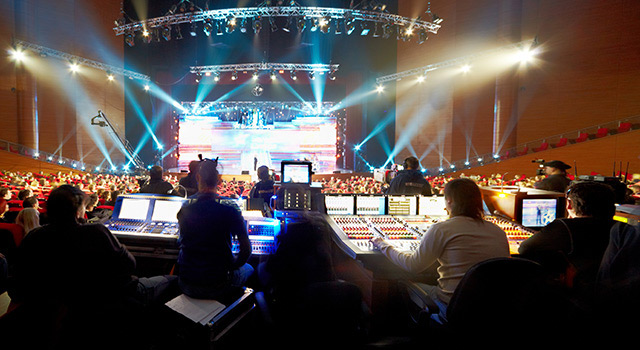 Hollywood Event Services
In addition to technology rentals, we also provide all of the technology services you could possibly require to make sure that you get the most out of your rental, including: event production, software imaging, presentation, on-site technicians, video production, event registration, event engagement, and hand sanitizing and screening services. Contact one of our account managers to find out how we can help you create a fantastic event with a lasting impression - service is the cornerstone of what we do.
Our Top Hollywood Apple Desktop Rental
Hollywood Mac Pro Rental
Hollywood is one of our top cities for computer rentals needed by video / graphic designers and software imaging specialists - which is why Mac Pro rentals are one of our most popular rentals in the city. Our Mac Pro rentals are available for rent with your choice of 8-core, 12-core, 16-core, 24-core, or 28-core Intel Xeon Processor, all with large L2 and shared L3, allowing for maximum bandwidth - ideal for video editing. And with RAM capacity of up to 1.5TB, the Mac Pro is an absolute computing beast, best in class for dealing with large projects, such as special effects, animation, music composition, or multimedia content.


If you get a Hollywood Mac Pro rental from Rentacomputer.com, you can rest assured that you will have access to the power you need to complete your projects, with the power and reliability you have come to expect from Mac desktops!

Get a Hollywood Mac Pro Rental Quote
Hollywood Mac Rentals
Some of the highest performing desktops on the market are Mac computers by Apple, ideal for design projects, video editing, or other professional film or creative uses.
Get a Hollywood Mac Desktop Rental Quote
Our Top Hollywood Mobile Device Rental
Hollywood iPhone Rentals
iPhones are easily the most popular smartphone rentals for conferences, trade shows, and business events in Hollywood. iPhones are also the go-to Apple mobile device for software developers who need to test how their software performs on iOS devices. Whether you need a small number of iPhones for application testing, or a few dozen iPhones for large event usage, Rentacomputer.com can supply you with any quantity of Hollywood iPhone rentals, from a variety of iPhone models.


We offer Hollywood iPhone Xs, iPhone XS, iPhone XRs, iPhone 8s rentals, and we can provide other iPhone models for rent - depending on the circumstances of your rental.

Get an Hollywood iPhone Rental Quote
Hollywood Mobile Device Rentals
The premiere tablet of choice around the world is the iPad by Apple.
Equipment for Every Step of the Filmmaking Process
Whether you are currently in Development, Pre-Production, Production, Principal Photography, Wrap, Post-Production, or Distribuiton, Rentacomputer.com has the equipment you need, at affordable rates.
How Technology Rentals Work in Hollywood




Hollywood Rental Pricing Factors


Quantity
Looking to get a large quantity of laptops, desktops, iphones, tablets, or other form of technology for an upcoming event, training class, or work project? The more devices you need for your rental, the lower the price for each individual rental unit needed will be.




Duration
We provide desktops, laptops, virtual reality headsets, event technology, and office equipment rentals on a daily, weekly, and occasionally even monthly basis. However, the shorter the duration of your rental need, the lower the price your technology rental will be.




Location
Much like in the world of real estate, location can play a big factor in the pricing of a computer or AV rental. If you need a technology rental - whether that need is in the form of desktops, laptops, Apple computers, virtual reality headsets, event engagement equipment, or even two-way radio rentals, we can supply your need almost anywhere, but the closer your need is to a larger city, the lower the price of your rental will be.




Specification
When getting a rental quote, especially when a quote is for laptops, desktops, tablets, or smartphones - the less specific your rental need is, the lower the cost your technology rental quote will end up being.




Availability
The more common the technology or equipment that you need a rental for is, the lower the cost of your rental will be. For example, iPads are more readily available pieces of equipment than shredders or copiers.




Lead Time
The further in advance that we know of your desktop, laptop, virtual reality headset, smartphone, tablet, event engagement, office equipment, or other technology rental need, the lower the price of your technology rental will be.


Hollywood PC & AV Rental Pricing*
*The rental rates above are generalized weekly samples only. They do not represent an exact configuration, quantity, or specific delivery location at a specific point in time so they are not exact rental rates. There are several factors that determine exact PC/AV rental rates. The key rental pricing factors include the supply and demand in the specific market, as well as the exact configuration of the equipment requested. If you're interested in a customized rental quote for your next business event please request a quote!