Lenovo Desktop Computer Rentals
Client Comments:
"The event was a great success. Our technician did an incredible job at our booth; frankly, I have never received such stellar customer service as I did from him. At the start of set-up, he made sure we had everything we needed for our event to run smoothly. He made me stress much less about the technology portion of my booth, which is typically one of the most stressful parts of the event." - Kali G. from Atlanta, GA
"I contacted Rentacomputer.com when I was in a pinch and needed a laptop for my business trip within the week. Their agents got me the kind of laptop I needed, and delivered right to the hotel I was staying at. I highly recommend using their services for any temporary need for technology." - Josh H. from Atlanta
"I'm so glad we went with you again this year! You're a life-saver." - Michelle G. from Las Vegas
Why Rent a Lenovo Desktop?
Lenovo offers desktops that are capable of dealing with any computing need, from simply web surfing and email checking, to intense gaming or high end business computing and production. Call a Tech Travel Agent to get a quote on the right Lenovo desktop for your needs.
Entertainment PCs
If you need a desktop for visual entertainment at your next trade show booth,a Lenovo Entertainment PC rental is ideal.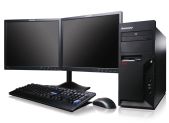 Lenovo ThinkCentre M Series
M Series desktops come with high performance Intel and AMD processors and DDR3 memory to deliver responsive performance and breakneck speeds - making quick work of the most intensive applications.

Need an IBM Lenovo desktop long-term?
If you need any number of IBM/Lenovo desktops for more than one year, and want to avoid purchasing, consider our leasing options. We can lease anything from Lenovo desktops to laptops for flexible one to five year terms. Contact a Tech Travel Agent to get started on a leasing contract today.