Lenovo Desktop Computer Rentals
Client Comments:
"Thank you again for all of your assistance with this as well as all of your help pre-Fair. I would like to tell you that we had great success using the iPads here at our State Fair!! One of the iPads had no sound and did not work with the Square Card Reader, but other than that everything worked great! Our exhibitors, employees, directors and superintendents really enjoyed being able to use the iPads as opposed to binders loaded with lots of paperwork. So we just wanted to express our thanks and tell you we look forward to working with you again in the future." - Barbara Anne from Delaware
"I wanted to thank you very much for everything. Your AV specialist just left. He hooked up our LCD Projector and our presentation went great! Excellent service!"" - Maria from New Jersey
"I wanted to tell you your company was outstanding for our rental needs last week. The drivers were prompt and so helpful. I want to thank you for all your help. I am also forwarding your contact information though out our company with a recommendation of rental needs. Thank you again for working with me and making it so easy." - Katie from South Carolina
Why Rent a Lenovo Desktop?
Lenovo offers desktops that are capable of dealing with any computing need, from simply web surfing and email checking, to intense gaming or high end business computing and production. Call a Tech Travel Agent to get a quote on the right Lenovo desktop for your needs.
Entertainment PCs
If you need a desktop for visual entertainment at your next trade show booth,a Lenovo Entertainment PC rental is ideal.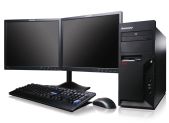 Lenovo ThinkCentre M Series
M Series desktops come with high performance Intel and AMD processors and DDR3 memory to deliver responsive performance and breakneck speeds - making quick work of the most intensive applications.

Need an IBM Lenovo desktop long-term?
If you need any number of IBM/Lenovo desktops for more than one year, and want to avoid purchasing, consider our leasing options. We can lease anything from Lenovo desktops to laptops for flexible one to five year terms. Contact a Tech Travel Agent to get started on a leasing contract today.