Rent A Network
Client Comments:
"We could not have done it without you. Every little detail of the event was extremely important. We were impressed by the patience, flexibility and skill you demonstrated in dealing with the occasional, but vital changes and modification required during the program." - United Ceberal Palsy from New Orleans
"Thank you for all your help in making our event a success, the techs really did help make sure everyone was taken care of." - Justin Conrad from Chicago
"I wanted to extend a thank you for your efforts for our holiday party this past weekend. The crew were really great and wonderful to work with. They were very much on time on Saturday (arrived 30 minutes early!) and were in and out and made set-up a breeze for us. They were also on time and quick to break down after our event ended. It was a pleasure to work with them." - Emma K. from Los Angeles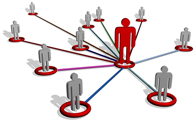 Rent a Network Solution
Our agents can supply you with a complete network rental that consists of everything from computers to servers and server peripherals, fully connecting your office team to the internet and each other. We can also include in that rental package other office equipment rentals such as printers, copiers and fax machines that you can connect to your network solution. Your Tech Travel Agent can be your single point of contact for turning a mere space into a complete working office.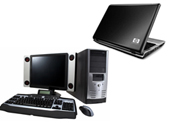 Virtually any kind of laptop or desktop can be offered in our network solution, and can be connected with your other devices in the network. For a listing of the brands we offer, see our
laptop
and
desktop
pages.
Rent a Complete Network
With just a single phone call you can get a complete network rental that can totally network your office. Our network solutions consist of everything from computers and servers, to office equipment. So call your Tech Travel Agent today and rent a network.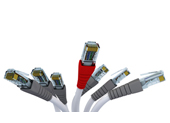 No network is complete without servers and server peripherals, and our agents can supply you with them. Our technicians can also tune your server rental to meet your specific server needs, whether you need an application server, file server, mail server etc. Even all of the peripherals such as cables, switches and hubs can be delivered in this complete network solution. Don't hesitate to contact your Tech Travel Agent if you need to get your office network back up and running quickly and efficiently!
Multifarious Solutions
A single phone call to a Tech Travel Agent can be the catalyst for the solution to all of your company's office equipment needs. During those peak times, our agents can handle the headache that goes along with the logistics of pulling together the right technology for producing, duplicating, and delivering information. Printer, copier and fax machine rentals can be bundled into a single quote that meets all information processing needs.
Rent a Complete Network for Disaster Recovery
When disaster strikes your office and compromises your much needed technology, recovery can be made easy if you call a Tech Travel Agent. Our Agents will pull together a solution that tends to all of your technological needs while recovering from a disaster, which includes delivery and installation. So ease the pains of recovery with the help of our Tech Travel Agents today!

Need office equipment for more than one year?
If you need office equipment for more than one year, consider our leasing options. We can lease anything form printers to fax machines for flexible one to five year terms. Contact a Tech Travel Agent to get started on a leasing contract today.