Client Comments:
"I just wanted to thank you so much for the rental and the terrific service that Kevin provided – he was hugely helpful on the install and really helped us troubleshoot the 3D. We'll be doing a similar installation in Los Angeles in March and I hope that we'll be able to rent from you again." - Jody K from Los Angeles
"When I first contacted a Tech Travel Agent, I needed a variety of technologies for my company's trade show booth at the Las Vegas Convention Center, and I needed it quick. From my one phone call, I got all of the technology I needed delivered and installed at my booth on time." - Steve Thompson
"My team just returned from their show at the Hershey Lodge and one of the first things they said was "the AV guys were AMAZING!". So thank you to you and your team for taking such good care of us!" - Ashley T. from Hershey, PA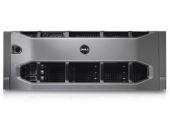 Why Rent an Enterprise Server?
An enterprise server is essentially a computer that serves the needs of an entire enterprise of users, rather than just a single user. Some businesses have used enterprise servers to run a general program under the operating system, and provides services for the system admin and other general applications. Our Tech Travel Agents can get you any Enterprise Server Rental you might need for a big project.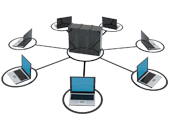 Enterprise Server Rentals For Virutalization Projects
If your company is considering various applications of virtualization and requires temporary technology with which to test possible virtualization solutions, server rentals are an ideal solution for temporary storage needs. For example, if your company is considering various ways to implement server consolidation, minimizing the amount of physical technology needed by linking multiple virtual servers to a single physical one, renting an extra server from Rentacomputer is an easy and cost efficient solution; since having an extra server for a short time would expedite the testing of consolidation solutions.

Need a enterprise server long-term?
If you need any kind of enterprise server for more than one year, consider our leasing options. We can lease anything from rack-mount servers, to blade servers, to routers & switches for flexible one to five year terms. Contact a Tech Travel Agent to get started on a leasing contract today.