Client Comments:
"Thank you and your local staff for your assistance in making the Association for Accounting Administration's 2012 National Practice Management Conference a success. Our goal was to make our event look flawless in the sight of our attendees. Having your equipment on site allowed for us to reach this goal. Thank you again for your time and efforts in supporting our event" - Tracie H. from Dayton, OH
"I wanted to extend a thank you for your efforts for our holiday party this past weekend. The crew were really great and wonderful to work with. They were very much on time on Saturday (arrived 30 minutes early!) and were in and out and made set-up a breeze for us. They were also on time and quick to break down after our event ended. It was a pleasure to work with them." - Emma K. from Los Angeles
"Just want to say thank you once again for everything. The computers were great! They made all the difference in the training." - Ted from Charlotte, NC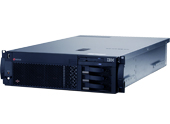 Why Rent An IBM Server?
IBM Systems can offer various computing methods for reducing IT costs and superfluous complexity through server consolidation and storage virtualization strategies, which makes computing and data storage streamlined and less taxing. This ultimately improves your overall application performance. Getting an IBM Server Rental is a very smart decision if you plan on testing various storage solutions.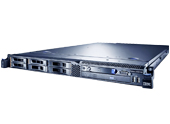 IBM Blade Server Rentals
IBM has what they call the BladeCenter, which is a system of individual blade servers, storage and networking options aimed at reducing IT complexity, while increasing energy sufficiency and reducing cost. So if you need temporary blade servers, our agents can work with you in developing the right kind of network through the excellent options that IBM's BladeCenter has to offer.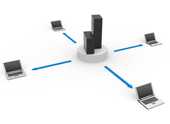 IBM Cluster System Rentals
IBM has been a leader in developing cluster systems suited to any size task. A clustered system is one in which multiple machines are connected using a high-speed interconnect, so that there is a single computing source. If you need to test various cluster solutions, then getting an IBM Server Rental is a wise decision.

If you need any kind of server solution for more than one year, consider our leasing options. We can lease anything from rack-mount servers, to blade servers, to routers & switches for flexible one to five year terms. Contact a Tech Travel Agent to get started on a leasing contract today.
Server Equipment Rentals for Virtualization Testing
If your company is considering various applications of virtualization and requires temporary technology with which to test possible virtualization solutions, server rentals are an ideal solution for temporary storage needs. For example, if your company is considering various ways to implement server consolidation, minimizing the amount of physical technology needed by linking multiple virtual servers to a single physical one, renting an extra server from Rentacomputer is an easy and cost efficient solution; since having an extra server for a short time would expedite the testing of consolidation solutions.