E Mail Server Rentals
Client Comments:
"Thank you for the FANTASTIC support during the recent events held at DARPA and the Pentagon. We really enjoyed working with your company. Your guys were top notch professionals and we will be requesting them again in the future." - Barb F. from Arlington, VA
"We had a great experience working with you, thanks again for all your help. I look forward to working with you again in the near future." - John from Santa Monica
"Thank you Randy, I really appreciate your help with our projector rental for our training session!" - Jennifer D. from San Diego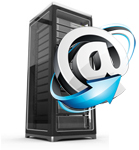 Why Rent A Mail Server?
Mail servers essentially exemplify the role of a post office, only in the context of computing and electronics. They run programs and routines that are specifically designed for managing message sending and retrieval. Mail servers are ideal if you are engaging in tasks that require temporary use of email messaging for a group of people, for example, a temporary office.
Windows Server 2008
Windows Server 2008 has many key features that can boost productivity and help administrators gain control over many areas. Vast improvements have been made to desktop virtualization through Hyper-V and Remote Desktop Services.

Need a Mail Server long-term?
If you need any kind of mail server solution for more than one year, consider our leasing options. We can lease anything from rack-mount servers, to blade servers, to routers & switches for flexible one to five year terms. Contact a Tech Travel Agent to get started on a leasing contract today.