E Mail Server Rentals
Client Comments:
"When I needed plasma displays and video wall rentals for my trade show booth at the Jacob Javits Center, I contacted a Tech Travel Agent and had it delivered right to my booth on time and installed the way I needed it. The service was impeccable." - Jacob from New York City
"I cannot tell you how happy we are with you and your eagerness to get a job done. You have no problem making suggestions that will save us money and your recommendations end up working better, our own clients have even complemented us on this. We've stopped getting bids from other companies because they don't compare to your dedication." - Brandon B. from California
"Thank you and your local staff for your assistance in making the Association for Accounting Administration's 2012 National Practice Management Conference a success. Our goal was to make our event look flawless in the sight of our attendees. Having your equipment on site allowed for us to reach this goal. Thank you again for your time and efforts in supporting our event" - Tracie H. from Dayton, OH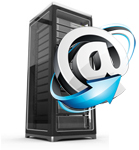 Why Rent A Mail Server?
Mail servers essentially exemplify the role of a post office, only in the context of computing and electronics. They run programs and routines that are specifically designed for managing message sending and retrieval. Mail servers are ideal if you are engaging in tasks that require temporary use of email messaging for a group of people, for example, a temporary office.
Windows Server 2008
Windows Server 2008 has many key features that can boost productivity and help administrators gain control over many areas. Vast improvements have been made to desktop virtualization through Hyper-V and Remote Desktop Services.

Need a Mail Server long-term?
If you need any kind of mail server solution for more than one year, consider our leasing options. We can lease anything from rack-mount servers, to blade servers, to routers & switches for flexible one to five year terms. Contact a Tech Travel Agent to get started on a leasing contract today.