HP Server Rentals
Client Comments:
"The event was a great success. Our technician did an incredible job at our booth; frankly, I have never received such stellar customer service as I did from him. At the start of set-up, he made sure we had everything we needed for our event to run smoothly. He made me stress much less about the technology portion of my booth, which is typically one of the most stressful parts of the event." - Kali G. from Atlanta, GA
"I wanted to tell you your company was outstanding for our rental needs last week. The drivers were prompt and so helpful. I want to thank you for all your help. I am also forwarding your contact information though out our company with a recommendation of rental needs. Thank you again for working with me and making it so easy." - Katie from South Carolina
"Days before I was going to make an important sales pitch, the bulb in my projector blew out. I needed a projector fast so I could make my video presentation, so I contacted Rentacomputer.com, and they delivered a projector where I needed it." - Dwight K. from Philadelphia, PA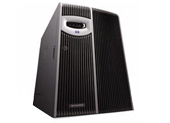 Why Rent an HP Server?
Based on industry standard x86 processors and optimized for Windows , Linux , and Netware environments. HP Compaq server rentals make an excellent choice for animation rendering.
HP Proliant Rentals
HP Proliant rentals emphasize scalability, and are ideal for growing businesses who need storage solutions that have potential for storage growth. The HP Proliant MicroServer is also a very ideal rental for small businesses.
HP Integrity Server Rentals
The HP Integrity servers come in two classes, the entry-class and the mid-range. Entry-classes work well with a diverse set of workloads and future business growth, operating with 1 to 4 processors.
The mid-range servers on the other hand, operate with 8 to 32 processors, and better facilitate scalability and OS consolidation.

Need an HP rack-mount server long-term?
If you need any kind of rack-mount server for more than one year, consider our leasing options. We can lease anything from rack-mount servers, to blade servers, to routers & switches for flexible one to five year terms. Contact a Tech Travel Agent to get started on a leasing contract today.