HP Server Rentals
Client Comments:
"The laptops worked flawlessly. Tony was a rock star and everything from the ordering process to how the laptops were shipped and packaged was awesome. I will use your company in the future. I would also have no hesitation to recommend your company." - Van M. from Riverside, CA
"Days before I was going to make an important sales pitch, the bulb in my projector blew out. I needed a projector fast so I could make my video presentation, so I contacted Rentacomputer.com, and they delivered a projector where I needed it." - Dwight K. from Philadelphia, PA
"Thank you again for all of your assistance with this as well as all of your help pre-Fair. I would like to tell you that we had great success using the iPads here at our State Fair!! One of the iPads had no sound and did not work with the Square Card Reader, but other than that everything worked great! Our exhibitors, employees, directors and superintendents really enjoyed being able to use the iPads as opposed to binders loaded with lots of paperwork. So we just wanted to express our thanks and tell you we look forward to working with you again in the future." - Barbara Anne from Delaware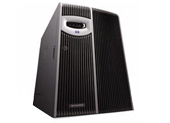 Why Rent an HP Server?
Based on industry standard x86 processors and optimized for Windows , Linux , and Netware environments. HP Compaq server rentals make an excellent choice for animation rendering.
HP Proliant Rentals
HP Proliant rentals emphasize scalability, and are ideal for growing businesses who need storage solutions that have potential for storage growth. The HP Proliant MicroServer is also a very ideal rental for small businesses.
HP Integrity Server Rentals
The HP Integrity servers come in two classes, the entry-class and the mid-range. Entry-classes work well with a diverse set of workloads and future business growth, operating with 1 to 4 processors.
The mid-range servers on the other hand, operate with 8 to 32 processors, and better facilitate scalability and OS consolidation.

Need an HP rack-mount server long-term?
If you need any kind of rack-mount server for more than one year, consider our leasing options. We can lease anything from rack-mount servers, to blade servers, to routers & switches for flexible one to five year terms. Contact a Tech Travel Agent to get started on a leasing contract today.