HP Server Rentals
Client Comments:
"Thanks Randy, Mike was AWESOME to work with! : ) Rosalie" - Rosalie from Beaverton, OR
"Thank you for your follow-up email and, again, I just want to restate how thankful I am of your prompt response and for meeting our IT needs; especially, in such a short notice. I certainly will keep your personal information at arm's length and will contact you next time we have another IT need." - Lou from Texas
"Same to you and thanks for the consistent top tier service level. It makes my job so much easier to know that all I have to do is say when and where and you guys basically take care of the rest, you guys are all awesome!" - Rosie Motzer from Myrtle Beach, SC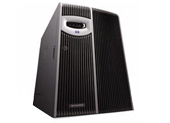 Why Rent an HP Server?
Based on industry standard x86 processors and optimized for Windows , Linux , and Netware environments. HP Compaq server rentals make an excellent choice for animation rendering.
HP Proliant Rentals
HP Proliant rentals emphasize scalability, and are ideal for growing businesses who need storage solutions that have potential for storage growth. The HP Proliant MicroServer is also a very ideal rental for small businesses.
HP Integrity Server Rentals
The HP Integrity servers come in two classes, the entry-class and the mid-range. Entry-classes work well with a diverse set of workloads and future business growth, operating with 1 to 4 processors.
The mid-range servers on the other hand, operate with 8 to 32 processors, and better facilitate scalability and OS consolidation.

Need an HP rack-mount server long-term?
If you need any kind of rack-mount server for more than one year, consider our leasing options. We can lease anything from rack-mount servers, to blade servers, to routers & switches for flexible one to five year terms. Contact a Tech Travel Agent to get started on a leasing contract today.