HP Server Rentals
Client Comments:
"I wanted to personally send my thanks to you for the guys that delivered and set up the monitors at our event in Chicago last week. They went above and beyond what was expected and gave us what many others didn't. It was so very much appreciated. They were wonderful!! When we come back to Chicago we would specifically request them again and you as well!!" - Deborah Free, President of Visual Connections from New York
"I will tell you that the shipping container, the condition of the Ipads and the professionalism in the whole process was very refreshing from past experience of other rental companies we have done business with." - Rob from Jacksonville, FL
"It's always good to work with a company who simply does what they claim at a fair price. Also your communication throughout our rental experience set you apart." - Aaron S. from Saginaw, MI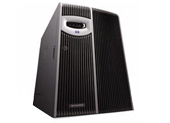 Why Rent an HP Server?
Based on industry standard x86 processors and optimized for Windows , Linux , and Netware environments. HP Compaq server rentals make an excellent choice for animation rendering.
HP Proliant Rentals
HP Proliant rentals emphasize scalability, and are ideal for growing businesses who need storage solutions that have potential for storage growth. The HP Proliant MicroServer is also a very ideal rental for small businesses.
HP Integrity Server Rentals
The HP Integrity servers come in two classes, the entry-class and the mid-range. Entry-classes work well with a diverse set of workloads and future business growth, operating with 1 to 4 processors.
The mid-range servers on the other hand, operate with 8 to 32 processors, and better facilitate scalability and OS consolidation.

Need an HP rack-mount server long-term?
If you need any kind of rack-mount server for more than one year, consider our leasing options. We can lease anything from rack-mount servers, to blade servers, to routers & switches for flexible one to five year terms. Contact a Tech Travel Agent to get started on a leasing contract today.