HP Server Rentals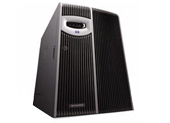 Why Rent an HP Server?
Based on industry standard x86 processors and optimized for Windows , Linux , and Netware environments. HP Compaq server rentals make an excellent choice for animation rendering.
HP Proliant Rentals
HP Proliant rentals emphasize scalability, and are ideal for growing businesses who need storage solutions that have potential for storage growth. The HP Proliant MicroServer is also a very ideal rental for small businesses.
HP Integrity Server Rentals
The HP Integrity servers come in two classes, the entry-class and the mid-range. Entry-classes work well with a diverse set of workloads and future business growth, operating with 1 to 4 processors.
The mid-range servers on the other hand, operate with 8 to 32 processors, and better facilitate scalability and OS consolidation.