Plasma/LCD/LED & HDTV Rentals
Client Comments:
"Everything has worked out just like you said it would, our event has been great! Thanks for all your help in making sure we got the plasma TV and everything else we needed" - Elaine from Massachusetts
"When I needed plasma displays and video wall rentals for my trade show booth at the Jacob Javits Center, I contacted a Tech Travel Agent and had it delivered right to my booth on time and installed the way I needed it. The service was impeccable." - Jacob from New York City
"Great service. Rentacomputer.com delivered my plasma tv directly to my booth. Also they had a cool stand to make my plasma head level. Made for a much better presentation than using tables like did at the last show." - Zack D. from Dallas
Why Rent An HDTV
Flat planel HDTV's are a very popular item to rent for trade show booths. Marketing your products and services with presentations and video will look excellent on a plasma, LCD or LED display. It's right in your face marketing for everyone passing by your trade show booth. Rentacomputer.com can supply any size flat screen you need with high definition resolutions of 1080p (1920x1080).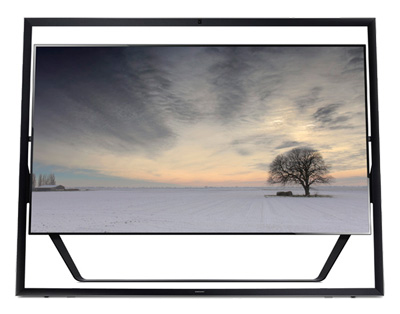 Advances in technology have taken TVs and displays to new levels with ultra high definition. Ultra high definition displays deliver the highest detail picture with incredible clarity and crisp images with 4K resolution. Ultra HD displays have a resolution of 3840 x 2160 which is double the resolution and four times the actual pixel count of standard high definition.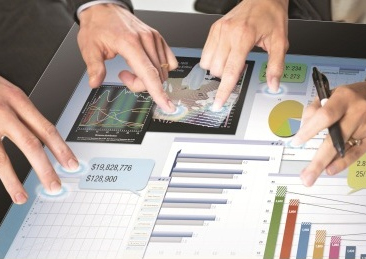 Interactive Touchscreen Displays
New advances in technology have given way to new displays with touch-sensitive capabilities. Users can interactive with these display much like they do personal tablets and smartphones. These displays can be wall mounted or you can attach legs and they become durable tables for multiple users to collaborate on.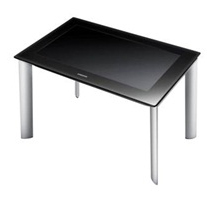 This innovative 40" HD multi-touch display serves as a centerpiece for multiple users to easily collaborate and interact with digital content and other users. It can be mounted vertically or serve as a table. The Samsung SUR40 uses PixelSense technology which gives LCD panels the power to respond to touch and objects without the use of cameras. This new technology can recognize more than 50 points of contact on the surface simultaneously! Multiple users can interact with the display at the same time. Physical objects can also interact with applications using optical tag recognition.
Plasma Stand Rentals
The aesthetic worth of a plasma display rental for your trade show booth is invaluable, it simply adds a visual dynamic that is difficult for a passer-by to dismiss while casually scanning surrounding booths. Equally important to the display rental however, is how the display is situated in your trade show space. Renting the right kind of plasma display stand for your allotted space is just as invaluable as the display itself; and our Agents can help you determine what the right type of stand is for you, and have it delivered with the display and set up at your booth.

Need a plasma display long-term?
If you need any number of plasma displays for more than one year, consider our leasing options. We can lease any brand of plasma display for flexible one to five year terms. Contact a Tech Travel Agent to get started on a leasing contract today.