Client Comments:
"Jessica provided the best service ever for our trade show in Orlando. All the plasma screens and AV equipment arrived on time, the installers went right to work and got everything setup and tested hours before the start of the show. Best yet, after the show was over, the guys show up, disassembled and packed away all the equipment within a half hour after the close of the show. Earliest I ever left a tradeshow after it was over. Congratulations Jessica, you are the best Tech Travel Agent in the World!!!" - Thomas K. from Orlando, Florida
"I wanted to thank you very much for everything. Your AV specialist just left. He hooked up our LCD Projector and our presentation went great! Excellent service!"" - Maria from New Jersey
"My plasma rentals really spiced up my trade show booth, and saved me the hassle of purchasing the technology. I highly recommend using Rentacomputer for any temporary technology need." - Tom Johnson from Seattle
Hitachi Plasma TV Rentals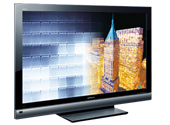 Why Rent A Hitachi HDTV
Hitachi puts a lot of effort into making a plasma display that offers the highest aesthetic experience, but that also is functional. Their latest displays truly exemplify this standard, and every Hitachi display that is developed is always better-looking, better-sounding and more user friendly.
Clear & Smooth Picture
Hitachi has developed a new feature with Pixel Manager, which technology that is exclusive to Hitachi, and enhances the resolution and clarity of the incoming signal. So all lines on the screen, even diagonals, are smoother than ever.
No Mode Setting
Hitachi's newest plasma displays feature Intelligent Auto Mode Select technology, which does away with the need to manually adjust the viewing modes on the TV (brightness, contrast etc.), and automatically adjusts the settings for optimal viewing in the environment that it is in.

Need a Hitachi plasma display long-term?
If you need any number of Hitachi plasma displays for more than one year, consider our leasing options. We can lease any plasma display of any size for flexible one to five year terms. Contact a Tech Travel Agent to get started on a leasing contract today.