Wireless Computer Rentals:
The new trend in Computer Rentals and Projector Rentals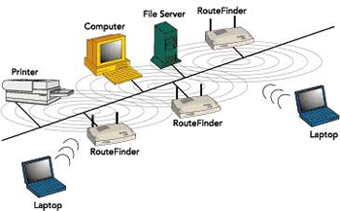 Getting wireless on your next projector or computer rental is easy with a Tech Travel Agent© from Rentacomputer.com. Just tell us what you want to do wirelessly. We will provide everything you need without all the technical jargon.
Are you looking to go wireless on your next company computer rental project? You probably knew you could rent wireless computers and notebooks. But did you know you can also rent wireless projectors and printer servers? Consider the convenience and added benefits of renting today's wireless technology. Wireless has a huge advantage over wired networks, especially for short term projects where rental computers, printers and projectors are deployed. Wireless networks are faster and easier to setup than wired networks. Wireless devices add flexibility and save time. With wireless, you can move your laptops, computers, projectors, printers around and still maintain connectivity. Best of all, you don't have to run cat5 wires from routers, computers, printers and switches. Here are some of the wireless computer rental products that are commonly requested for company projects:

Computer Rentals
Most common of all wireless computer rental requests are wireless desktop and laptop computers. A wireless computer rental is a quick and efficient way to add a PC to an office or area that lacks traditional CAT5 wiring. This is common when hiring temporary employees or when brining on extra labor as my occur for large projects or even tax season.

Wireless laptop rentals
are commonly used for training classes that may be held at a hotel or conference center. Wireless notebooks used for computer training make for a quick and clean classroom set up. Using notebooks for training also gives the students a chance to take the notebook, and of course their computerized material, with them for independent study when the class breaks each night.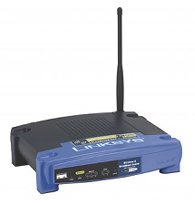 Wireless Router Rentals
A wireless router is a networking device that connects computers to the internet. With a router you can share an internet connection between multiple computers on the network. Note: The internet cable needs to be connected directly into the wireless router.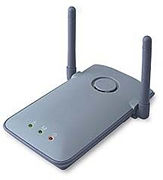 Wireless Access Point (WAP) Rentals
A wireless access point is a networking device that allows wireless-equipped computers and other devices to communicate with a wired network. A WAP may also be used to expand the range of an existing wireless network.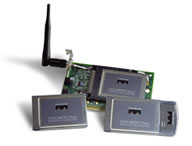 Wireless Adapter Rentals
A wireless adapter is a device that adds wireless network functionality to your desktop computer rental or your notebook rental. There are three types of wireless adapters. PCI Adapters are for desktop computers. As the name suggests, they can be installed in an available PCI slot. PCMCIA Adapters, also known as PC Cards are for notebooks. Installation is as simple as pushing the card into an available PCMCIA slot. Lastly, there are USB Adapters. These adapters are compatible with desktop and notebook computers.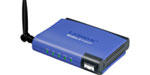 Wireless Print Server Rentals
A wireless print server connects a printer to the wireless network, allowing any computer on the network to access the printer at any time.
Wireless Projector Rentals
A wireless projector allows a computer user to wirelessly connect and display the computer video on a screen. All you need is a wireless adapter in your computer or notebook and the software that comes with the projector.
Advanced wireless projectors allow one computer to connect to multiple projectors AND multiple computers to connect to a single projector.
If you want to have a really impressive presentation, consider renting 2 or more wireless projectors. Bring your multimedia presentation to the next level by putting on multiple unique screens of your data and video presentation. For example: have animation on one screen and data on another! Another benefit of wireless projectors is having the ability of multiple presenters, display their presentation, right from their own wireless laptop or computer. Consider a corporate meeting with presentations from finance, operations, sales and marketing managers.
Next project, consider renting wireless devices from your Tech Travel Agent at Rentacomputer.com. Call 800-736-8772! That's 1-800-Rent-R-PC!