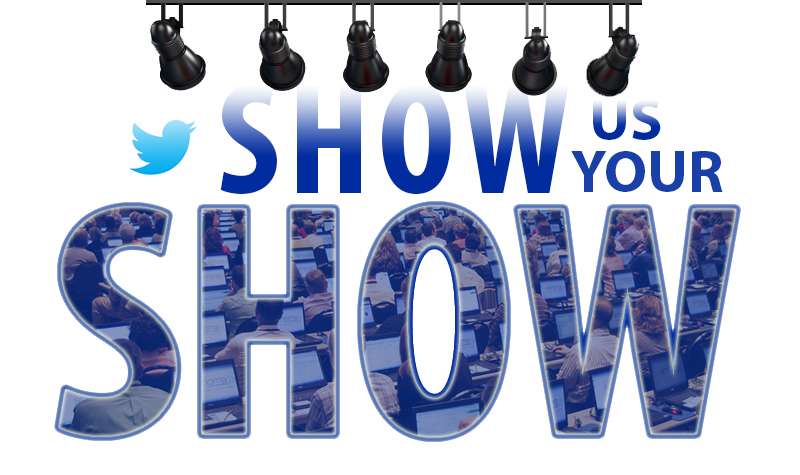 You Can Win an iPad Mini!
No catches. No gimmicks. No purchase necessary.

Take a photo of any event you are attending or hosting. The photo can be of the venue, of a tradeshow booth, of a speaker/presenter, anything pertaining to a show you are involved with. It can even be a selfie! YOU MUST BE THE OWNER OF THE PHOTO YOU SUBMIT!


Our Show Us Your Show Contest has ended!
Check back soon to enter the newest giveaway or contest!
---
The Fine Print
The Rentacomputer.com Show Us Your Home Office Contest is open to all Legal US Residents over the age of 18. Employees of CFR, Inc. and any of the primary sponsors of this sweepstakes including: Rentacomputer.com, CameraSecurityNow.com, Tech-Army.org, and Xponex Media and such employees' immediate family members and persons with whom such employees are domiciled are excluded from this sweepstakes.
We will notify the winner by direct message and a public tweet on Twitter and ship the winning items as soon as we've received the winner's release form.
Contest entries must be submitted by 11:59 a.m. EST, July 5, 2020.
The prize is not redeemable in cash and must be accepted and awarded as an Amazon gift card and 5% off of a future order with Rentacomputer.com
Prize must be claimed within fourteen (14) days of posting contest winners on Twitter.
In accepting the prize, the winner acknowledges that CFR, Inc. may not be held liable for any loss, damages or injury associated with accepting or using this prize.
In accepting the prize, the contest participant authorizes the use, without additional compensation of his or her name and/or likeness and/or voice/photograph and municipality of residence for promotion and/or advertising purposes in any manner and in any medium (including without limitation, radio broadcasts, newspapers and other publications and in television or film releases, slides, videotape, distribution over the internet and picture data storage) which CFR, Inc. may deem appropriate.
This contest is subject to all federal, state and local laws.
CFR, Inc. reserves the right to withdraw or terminate this contest at any time without prior notice.
Winners must sign a release form as prepared and accepted by CFR, Inc. acknowledging their acceptance and understanding of the complete sweepstakes rules.
CFR, Inc. retains the rights, in its absolute and sole discretion, to make substitutions of prize valued at $25 in the event of the unavailability of any prize or component of the prize for any reason whatsoever.
Even If You Don't Win The Grand Prize
If Rentacomputer.com uses your photo in any promotional material (not including social media), we will send you a $25 Amazon gift card!