PA Sound System Rentals
Sound Rental Advice
If you manage conferences, tradeshows, conventions or classroom training you should really consider using a microphone and amplifier. They are low cost to rent and easy to use.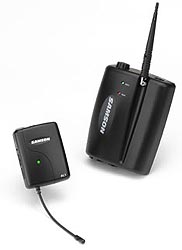 If your event is growing, consider even larger audio visual solutions.
A wireless microphone is an the best solution. The presenter wears a small microphone on the lapel area (just clips on) that is connected to a transmitter (usually clips to a belt or pocket).
Sound System with single speaker and Lavalier Microphone
Sound System with multiple speakers and Lavalier Microphones The Lavalier (pictured) combines the microphone with the transmitter. Connect to your sound system via the the audio input plug.
Before the presentation, do a sound check. Make sure you are getting the right amount of sound. If the sound level is too high, you will get an annoying buzzing sound. If the sound level is too low, you won't be able to hear the speaker in the back corners of the room.
Note: The transmitter and receiver each use a 9 volt radio battery.
Complete audio visual packages are available from Rentacomputer.com.