Event Entertainment Rentals
Client Comments:
"I sent the 6500 lumen projector and short lens back yesterday. They worked very well! Thank you sooooo much!" - Joan from Nebraska
"I just wanted to thank you for your great support in our event. The show was a success and your staff was extremely professional and supportive." - Carlos from El Salvador
"Thanks again for everything with Arnold Porter. You guys are tremendous to deal with! Always super quick and responsive. That is very much appreciated and we look forward to working together on many future deals." - Glenn from New Jersey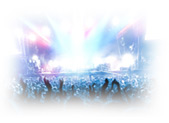 Why Get An Event Entertainment Rental?
If you are planning a large event, you will most likely need to plan on offering entertainment for your attendees. Entertainment requires a special touch when coordinating the necessary technology. Musical acts for example require professional grade sound equipment as well as people who know how to run it, if you want the musical entertainment at your event to sound great. Our experienced agents can get you the right equipment for entertaining your event guests.
Sound System Rentals For Entertainment
Having the right sound system equipment is absolutely essential for event entertainment. Tech Travel Agents with Rentacomputer.com can procure any sound technology you need, including microphones, soundboards, amplifiers, and cables.
Music is the most common form of entertainment at events, and it is the most technologically demanding. The style of music alone will determine what type of sound system configuration you will need, since you will have to account for the number of musicians and how they need to be amplified.
Lighting System Rentals For Entertainment
Lighting is another important factor in event entertainment, and can be used to enhance any form of entertainment, from music performance to stand up comedy or magic shows. Lighting for musical performance can be a complex project in itself, and having a dynamic light show might require top of the line technology. Let us get you the right lighting rental technology for your entertainment.

Need event entertainment rentals for more than one year?
If you need sound & lighting equipment for more than one year, consider our leasing options. We can lease anything from speakers & amplifiers, to soundboards and lights for flexible one to five year terms. Contact a Tech Travel Agent to get started on a leasing contract today.