Samsung SUR40 Rentals
Client Comments:
"Everything has worked out just like you said it would, our event has been great! Thanks for all your help in making sure we got the plasma TV and everything else we needed" - Elaine from Massachusetts
"Jessica provided the best service ever for our trade show in Orlando. All the plasma screens and AV equipment arrived on time, the installers went right to work and got everything setup and tested hours before the start of the show. Best yet, after the show was over, the guys show up, disassembled and packed away all the equipment within a half hour after the close of the show. Earliest I ever left a tradeshow after it was over. Congratulations Jessica, you are the best Tech Travel Agent in the World!!!" - Thomas K. from Orlando, Florida
"When I needed plasma displays and video wall rentals for my trade show booth at the Jacob Javits Center, I contacted a Tech Travel Agent and had it delivered right to my booth on time and installed the way I needed it. The service was impeccable." - Jacob from New York City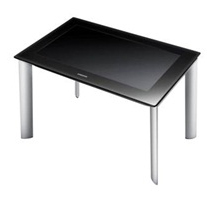 Samsung SUR40 for Microsoft Surface
This innovative 40" HD multi-touch display serves as a centerpiece for multiple users to easily collaborate and interact with digital content and other users. It can be mounted vertically or serve as a table. The SUR40 has a 360-degree user experience, with built-in speakers and the durability to withstand ongoing use.

Microsoft PixelSense
The Samsung SUR40 uses PixelSense technology which gives LCD panels the power to respond to touch and objects without the use of cameras. This new technology can recognize more than 50 points of contact on the surface simultaneously! Multiple users can interact with the display at the same time. Physical objects can also interact with applications using optical tag recognition.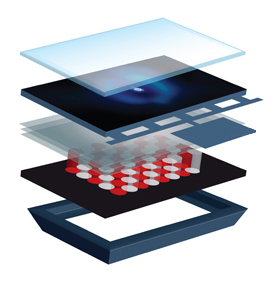 Thin and Powerful
The SUR40 is four inches thin, which makes it easy to use in a horizontal deployment, hang on the wall with the VESA mount, or embed in walls or custom enclosures. Even though it is thin, it still delivers significant processing horsepower and has outstanding graphics capabilities.