Technology Rental Services in Yukon Territory, Canada
Our agents can get you desktops, laptops, servers, tablet PCs, and much more! Any type of computer rental you could need, rest assured we can rent it to you. With delivery to any location in the Yukon Territory, Canada, Rentacomputer.com can handle any computer rental need.
If you need projectors, monitors, flat screen displays, sound systems, lighting systems, staging, pipe & drapery, video walls, electronic copyboards, kiosks, cameras, or security cameras, our agents can help you! Rentacomputer.com has an exhaustive line of audio-visual equipment to solve any rental need!
We have any kind of office equipment rental, including copiers, printers, and fax machines. Setting up a temporary office doesn't have to be a headache. Let Rentacomputer.com assist you with all of your office equipment rental needs. We can setup your office when and where you need it, and even collect all of the equipment when you no longer need the it, allowing you to worry about the more important details of your business.
There are a variety of wireless technologies that you can rent. Tradeshow internet, Nextel radios, two-way radios, AirCards, and anything else that you need to wirelessly network your office, or the internet. If you are taking a vacation or planning a conference, Rentacomputer.com can make sure that your technology is always connected.
From Rack-mounts, Blades, File Servers, and Database Servers, to switches, routers and any other network devices you need for your server project. Server rentals are a great way to migrate data centers, temporarily increase productivity, for proof of concept projects or to run a temporary office.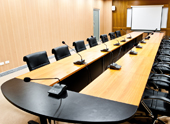 If you are holding an important meeting in the Yukon Territory, setting up a training seminar, planning a conference, convention, or tradeshow, our agents can handle all the logistics of procuring the technology you need, including setup and delivery, so that you can focus on your event and making sure it is a success.