MSI Computer Rentals
MSI computers (Micro-Star Int'l Co.,Ltd.) are known for their graphics and high performance. Because of this, they are almost always used for gaming, eSports, VR, or graphicially demanding business applications. We offer the latest MSI laptops and desktops to bring you the best gaming and high-end Windows based commputer experience nationwide.
Request an MSI Rental Quote
Rent An MSI Laptop Or Desktop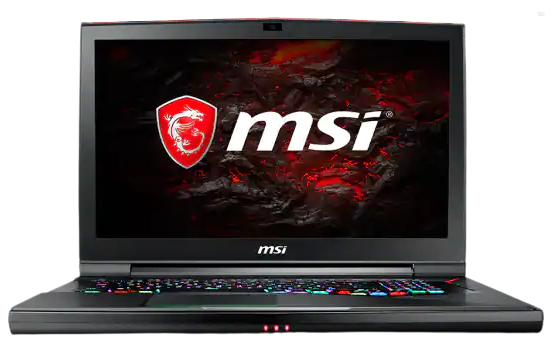 We Rent MSI Gaming And Esports Products
MSI computer rentals are perfect for the gaming and VR scene. From the popular MSI Titan and Stealth notebooks to the powerful MSI Trident and Aegis desktops, these gaming PCs pack a powerful punch and take tournaments, eSports, and VR applications to the next level. We offer these computers for rent at any quantity and for any amount of time! Perfect for when you need some additional power for working remotely from home when a company supplied PC isn't available!

Additionally, we offer many accessories and services for our MSI PC rental products, including software imaging, gaming peripherals, on-site setup,support, and more!

Rentacomputer.com can accommodate your telecommuting needs. When you partner with Rentacomputer.com on your MSI rentals you can rest easy knowing you have access to the best support in the industry. In a rapidly changing workplace, a companies infrastructure may need to change just as rapidly. Short term computer rentals can ensure a quick and efficient transition to a remote work environment. Our Windows Laptops, MacBooks, High-End Gaming Laptops and Desktop PC's cam make teleworking (working from home) ideal for your business.

Reserve an MSI Rental Now
MSI Rentals: The Perfect Performance PCs for Tournaments, Esports & VR
MSI Gaming Computer Rentals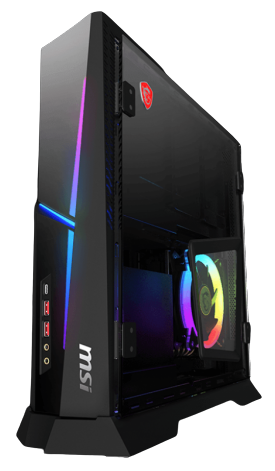 MSI Trident And Aegis Desktop Rentals
The MSI Trident and Aegis PC's are Windows 10 based gaming & VR powerhouses. With a small form factor desktop design, each weighing in at less than 7 pounds and less than 14" tall, these MSI Desktop Computers are powerful Quad Core i7 systems, featuring eight or four cores respectively, with NVMe or M.2 SSD drives, and Nvidia RTX 2070 or GTX 1080 graphics cards for faster rendering, and groundbreaking video performances. Looking for an MSI rental with the options you need to make your next event a success? Let's chat and find out how we can make that happen. See the links below for Gaming Peripherals or be sure to ask about gaming monitors, keyboads, mice, and headsets to make your system complete. Pricing starts at $264 per month!
Get an MSI Trident Rental Now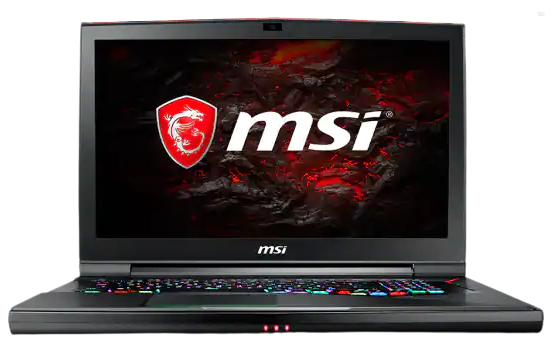 MSI Titan And Stealth Laptop Rentals
The MSI Titan (GT Series) and MSI Stealth (GS Series) offer the optimal mix of pwer and portabality in Windows PC gaming laptops. The Titan laptops feature a Quad Core Intel i7 Processor, with 16GB RAM, 128GB SSD, 1TB HDD, Nvidia GTX 1080, and a 17.3" 1080p 120Hz IPS Display. While the MSI Stealth Laptop takes it to the next level with a Six Core i7 Porcessor, 32GB of RAM, 512GB NVMe, Nvidia RTX 2080, and a 17" 1080p 144Hz Display. Both laptops ship ready to go with Windows 10 and we have a full line of peripherals, see below, to make your gaming laptop rental even better. Pricing starting at $384 per month!
Book an MSI Titan Rental Today
Gaming Related Rental Equipment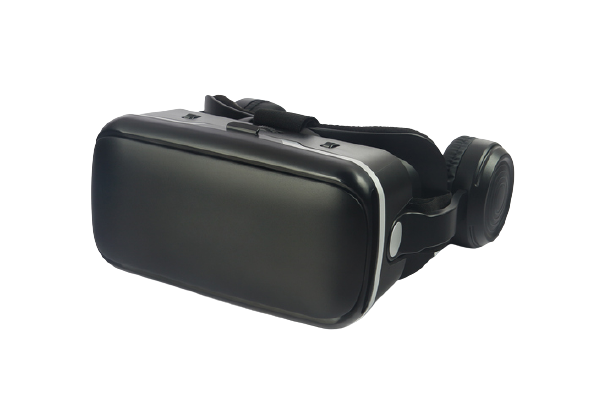 Virtual Reality Rentals
With many developers creating and demonstrating new VR games, videos and technology, the need to rent VR headsets is becoming increasingly popular! Ask us how our HTC Vive, Samsung HMD Odyssey, Oculus Rift, or Gear VR Headsets can make your event more engaging!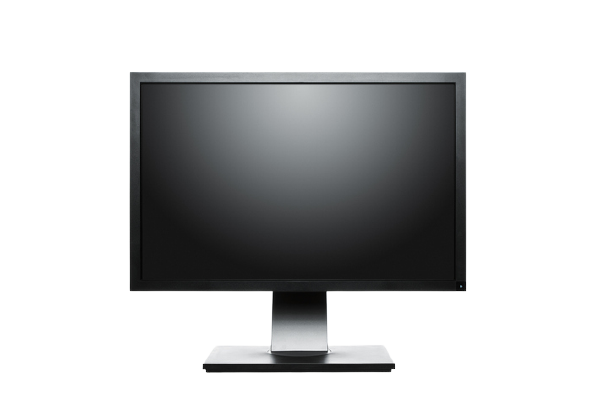 Gaming Monitor Rentals
If you want great gaming you will want great gaming monitors. We offer a wide variety of 1ms displays, supporting both G-Sync and FreSync, running at 144Hz and 240Hz. 4K monitor rentals are also availabl to make your event looks even more stunning. Be sure to ask about bulk discounts if you're checking for the best value on your gaming monitor rental needs.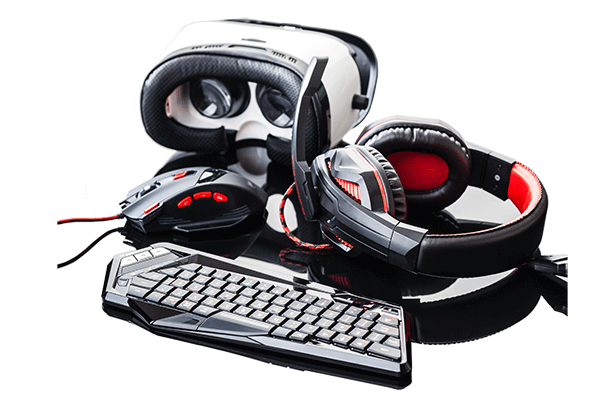 Gaming Peripheral Rentals
From keyboards to mice, from Logitech ro Razer, gaming peripherals are important equipment for gaming events and tournaments and we offer a wide variety for your attendees. Be sure to ask about our budget-friendly peripheral options to make your gaming event complete.
Looking For Accessories To Go With Your Laptop Rental? We Carry Everything From Webcams And Microphones To Keyboards And Headsets!
More Laptop Rentals
Laptop Rentals by Type
Laptop Rentals by Brand
Laptop Rental Accessories
Nationwide Gaming Laptop Rentals Available
For over 30 years, Rentacomputer.com has specialized in providing technology for temporary business and event needs. Whether a client needs gaming laptops, audio visual, event equipment, office equipment or any other type of technology rental, our agents can obtain the equipment and coordinate all facets of on-site installation. Our agents also specialize in providing event production, staging and support services for businesses and institutions worldwide. Rentacomputer.com has worked with clients in many industries and excels at delivering, setting up and troubleshooting a wide variety of technologies. Check out our Google Reviews to see what our clients have to say about our proven track record of providing custom turn-key solutions for your event technology needs.